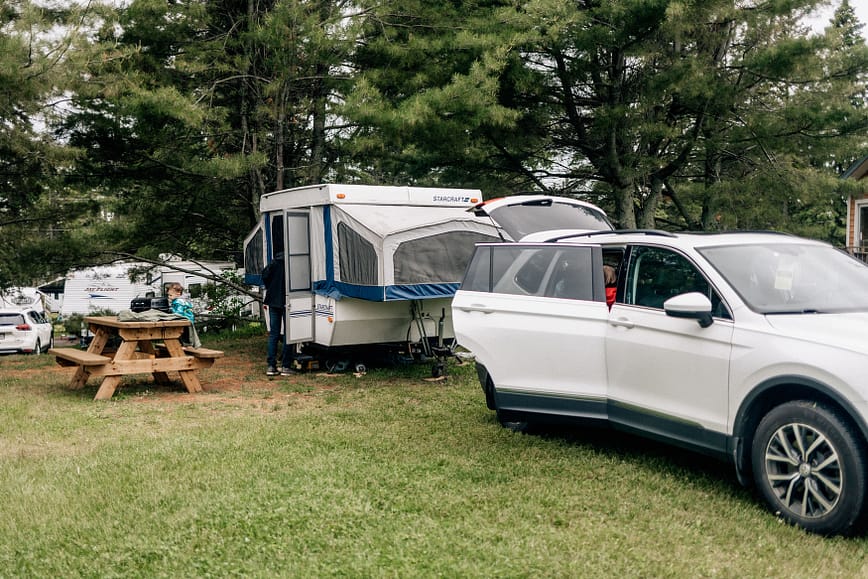 Growing up, we never went camping. It just wasn't our thing. We spent our time at beaches or horse shows. However, my husband and I have camped together and love it!
One moment that is still with me is when we were at our tent one evening after a full day of hiking and at one of the sites near us, a mom was bathing her toddler (I'd say a year old, maybe younger) in one of those plastic tote bins from Walmart. The kid was having a blast! I loved being a witness to that incredible family memory and was hoping to someday have our family memories out camping. We haven't taken our children yet but I'm hoping to this summer. So since I was searching around anyways, I thought I would share my list with you all!
Fundy Trail Campground & Cottages
Location: Delaps Cove, NS
About: Featuring serviced and basic sites, this campground is right near the ocean. They offer local fishing, hiking, The Shoreline Express train rides for kids, outdoor movie nights, Halloween weekend in August as well as other fun family events. They also have a heated swimming pool, canteen with arcade games and are very close to the Delaps Cove trail (it has a beautiful waterfall!).
Click here for their website.
Blomidon Beach Provincial Park
Location: Blomidon, NS
About: The campground is open May to October and has beautiful ocean views. Blomidon also has a playground for kids. Click here for the website.
Cove Ocean Front Campground
Location: Parkers Cove, NS
About: Ocean views, heated swimming pool, playground plus a rec hall with games and a library. Located 20 minutes from Seal Cove, Delaps Cove hiking trail, Hampton Lighthouse, Fort Anne National Historic Site and more. This is a perfect getaway for all families. Check out their website here.
Evangeline Campground
Location: Grand Pre, NS
About: Highbury Gardens RV Park is just a short walk to Evangeline Beach and also offers a play space for kids 3 to 8 years old. They have a swimming pool, arcade and mini-golf for families to enjoy too! Click here for their website.
Jaggars Point Oceanfront Campground Resort
Located: Smiths Cove, NS
About: Located only minutes from Digby, this full-service campground and RV park is a great spot for a family vacation away. Pebble and sand beach to explore, pool area, tiki bar, rec hall, canteen and playground to enjoy on-site. They offer kids' programs as well as live concerts, meditation and yoga classes. Find out more here.
Yogi Bear's Jellystone Park™ Camp Resort
Location: Kingston, NS
About: One of the most popular family campgrounds in the Annapolis Valley! They have a fully stocked Ranger Station with candy, toys, supplies, clothing and more. New for 2022 is The Cafe offers coffee, fresh baked goods such as cinnamon buns and pies and even milkshakes! This campground also features a canteen, swimming pool, large inflatable water slide (25 feet high x 60 foot long), rec hall with arcade and photobooth, kids corral, playground, jump pad, mini-golf course and more. They also have amazing weekend events which you can learn all about here.
South Mountain Park
Location: North Alton, NS
About: Features 2 outdoor playgrounds plus an indoor playground, heated swimming pool, splash pad, jump pad, slip and slide, paddle boats, and convenience store where you can purchase supplies, clothing, candy, ice cream and more. This park has 115 acres of woods and ponds that are full of wildlife with RV sites, tent sites and cabins available for rentals. You can learn more here.
Sherwood Forest Camping Park
Location: Coldbrook, NS
About: Located close to amenities and valley attractions, this park features a spring-fed trout brook, freshwater pond, family pool, adult pool, hayrides, rec hall with games, volleyball and more. You may even come across Robin Hood and his Merry Men during one of the hayrides! Check out their website here.
Khlahanie Kamping
Location: Aylesford, NS
About: This campground is located minutes away from the popular Oaklawn Farm Zoo and offers both open and wooden camping sites as well as cabins on their 75 acres. With a beautiful pond, organized activities, 2 swimming pools, mini-golf, basketball, playground and trails this is sure to be a hit with the family (bring the dog!). Their website is undergoing construction as they change owners so stay updated on their Facebook page.
Do you know of a campground in Annapolis Valley that should be on this list? Comment below your favourites!