Fox & Poppy is a sweet little eco-friendly kid's clothing shop. They specialize in OEKO-TEX® certified loungewear for children and babies. This means that the fabric used to make each and every item has been tested for harmful substances and has been deemed safe.
Fox & Poppy clothing is made in small batches in Canada with mindful practices that take into consideration the earth and our children's health. The natural fabrics are purchased in British Columbia while the clothes are manufactured in Ontario.
I have personally had the pleasure of trying some of Fox & Poppy's clothing out on my own kiddos. Even though I had the opportunity to be given these items, all the opinions below are my own.
SCROLL DOWN TO READ MY HONEST REVIEW OF THIS ECO-FRIENDLY KIDS CLOTHING SHOP: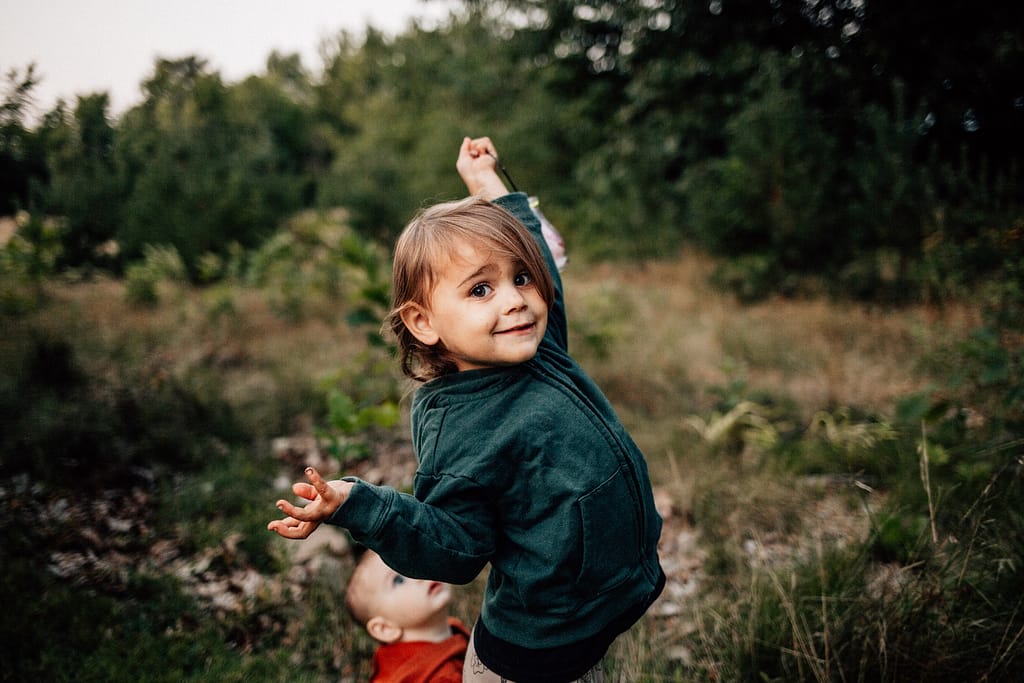 The girls have the terry sweatpants and the terry sweat top in blush while Archer has the same set in grey. Sizes come in 0-3 months all the way up to 10! They are true to size and made with non-toxic dyes. The bamboo fibres used give the outfits a soft texture with minimal to no shrinkage. I have to say that we have washed them and we didn't notice any shrinkage. They come in pink, blue, grey, rust and oat so there's lots of great options to choose from. Sawyer really likes to wear cozy clothes like sweatpants, especially around the house. So these are perfect for her. She can be cozy and I can trust that they will last. She also really loves that they have pockets to carry her special rocks!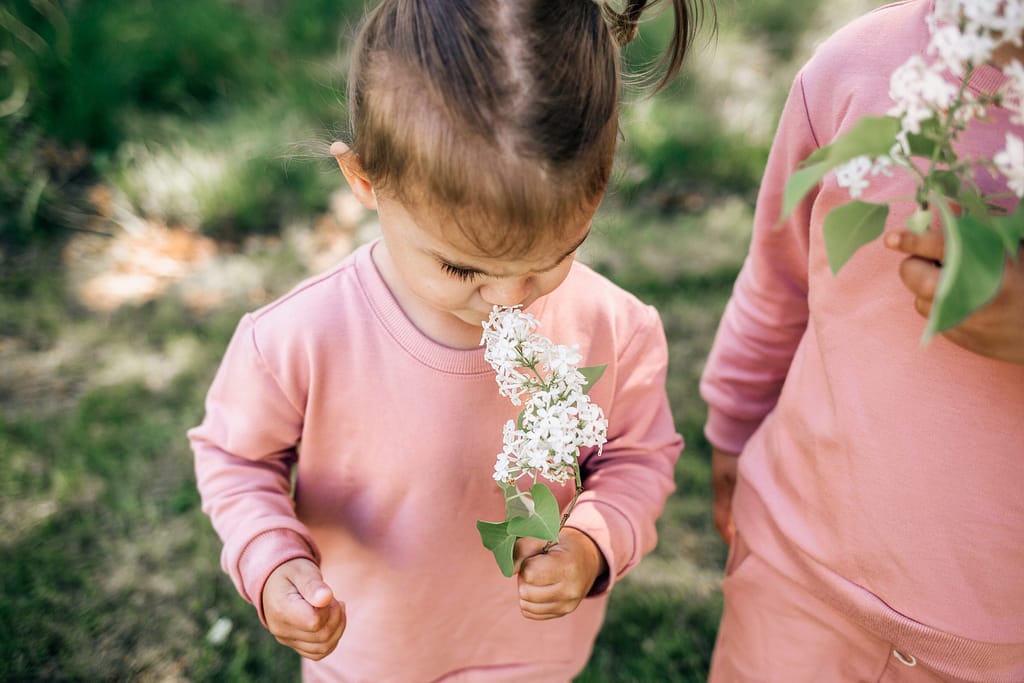 The first item we ever tried from Fox & Poppy was this sweet knotted gown. It has the softest feel which makes it so comfortable for baby. The gown has the flapped-shoulders which makes it a breeze to put on and the open bottom (which can be tied of course) makes late night diaper changes go a little more smoothly. It even has little foldable hand covers that will help prevent face scratching or just keep your baby warm. We got a size 6-12 in rust and it fit perfectly. I have to say that my little guy is super squirmy so it's not the best thing for him to wear but I do love it and wish we would've found Fox & Poppy earlier! I'm happy to able to add it to my client closet for photo sessions.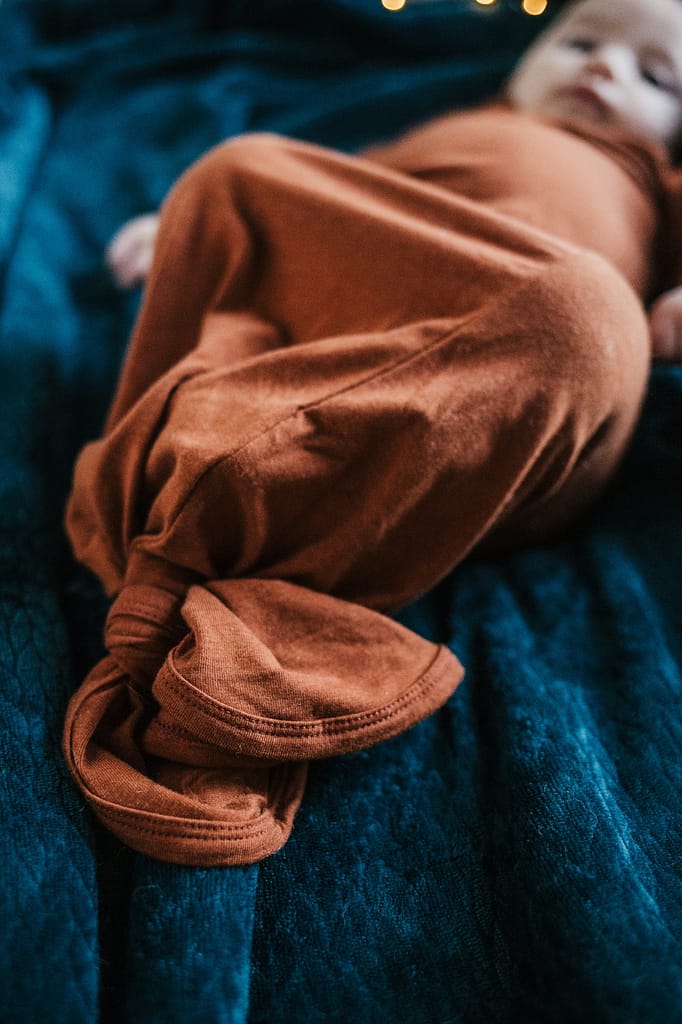 I took the girls outside to really test out the next items. Sawyer is wearing the flute dress in floral (Size 5/6) with the everday leggings in dark purple (size 5/6). Lennox is wearing the flute dress in dark purple (size 2/3) with the everyday leggings in floral (size 2/3). These are available in sizes 0-3 months up to 10 years. Sawyer's dress fit perfectly while the leggings were slightly long so I would've sized down in those for her. She normally wears a size 4t or 5t. For Lennox, her dress and leggings fit a bit more on the 3 side than the 2. I love that they're going to fit her longer and get more wear although she does find the dress a bit too long. She sometimes gets her foot stuck in it while climbing and playing. I would've probably sized down in the dress for optimal wear.
Being made with a bamboo and cotton blend, they are perfect for kids sensitive skin. They are SO soft. I wish they came in mama sizes! I love the stretch that they have which makes them perfect for lounging at home, going out shopping or adventuring outside.
Below, Archer is wearing the waffle knit romper in charcoal. This romper comes in sizes 0-3 months up to 3-4t. My favourite thing to put on babies is rompers and jumpsuits. I love the ease of a sweet outfit with the hassle. Being made of 100% organic cotton makes it super soft, stretchy and breathable. It has the button snaps which make it easy for getting over his head but I wish it has snaps on the bottom as well. I prefer the look without the snaps, but for diaper changes, it would be nice to have them.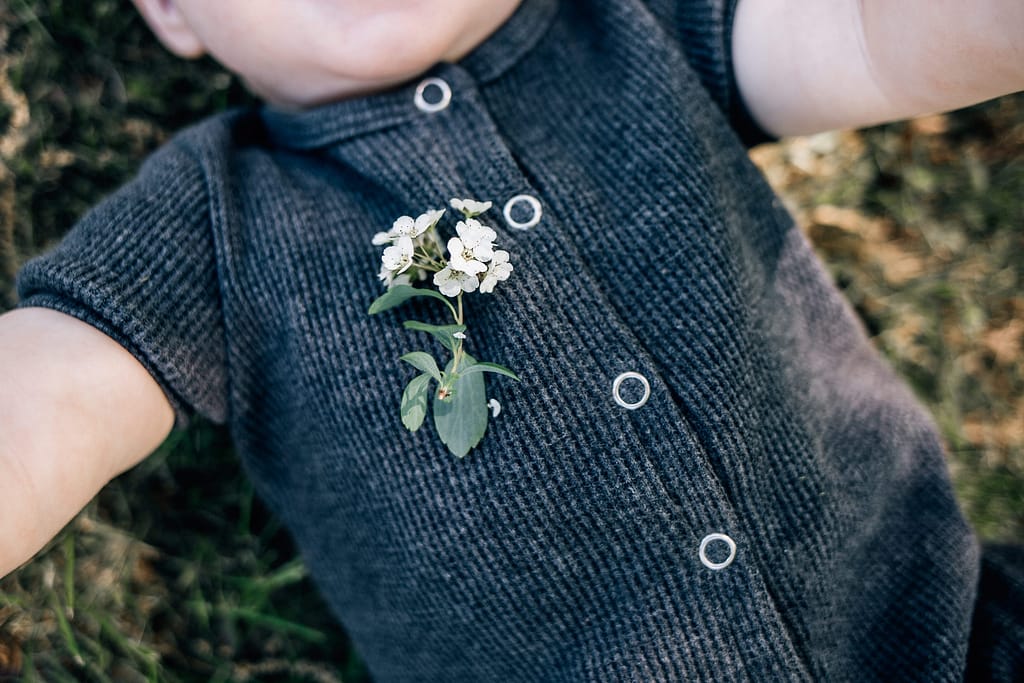 I've also tried is the essential blanket in neutral. It's sort of a soft oat/peachy color and made out of 100% organic cotton gauze. It has quickly become a true "essential" in my client closet for newborn sessions. Being lightweight and soft, I also throw it into the stroller or in the car for an extra layer if we need it. I actually took it with us to the beach one day and it helped keep Archer from eating all of those little rocks
There you go! If you're looking for quality, sustainable, Canadian-made baby or kids clothing. Look no further! I highly recommend Fox & Poppy's line of loungewear and I'm excited to see how this brand grows.