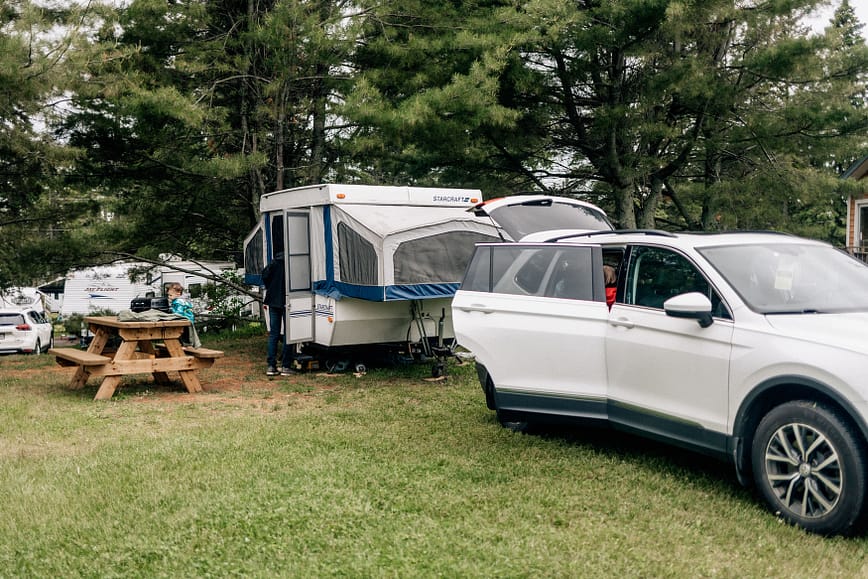 I never went camping as a kid. My mom said we went once when I was really young but I definitely don't remember it. My husband and I used to camp now and then before we had our kids. Camping is an experience that I wanted to have as a family and I wanted it to be a way to create some family memories.

Let's take a look at some tips and tricks for camping with kids, and show you how to make the most of your time in the great outdoors.
Choose the Right Campsite
Look for a family-friendly campground with plenty of activities and amenities, such as hiking trails, swimming pools, and playgrounds. Make sure the site is easy to access and has plenty of space for your family's tent or camper, as well as any other gear you may bring along. If you want a quieter place to stay, see if the campground has walk-in sites available and bring a wagon to carry your gear. If your kids are young or in the middle of potty training, check for sites that are close to the bathrooms so it's less of a walk!
Get the Kids Involved
This is key! Let them help with choosing the campsite, planning meals, and packing their own backpacks. This will help them feel more invested in the trip and give them a sense of ownership over the experience.
Pack the Essentials
This includes things like a first aid kit, extra clothing and shoes, sunscreen, towels, bug/tick spray, and plenty of snacks and water. Don't forget to bring along some games and activities to keep the kids entertained, such as cards, board games, and outdoor toys.
Embrace the Great Outdoors
Take advantage of the natural beauty around you by going on hikes, swimming in a nearby lake or river, and stargazing at night. Encourage your kids to be curious and adventurous, and help them learn about the plants and animals they see along the way. We have apps downloaded like Skyview and Seek if the kids want to learn more about the night sky or plants that we come across.
Keep Things Simple
Don't overpack or over plan, and give yourself plenty of downtime to relax and enjoy the experience. Keep meals simple and easy to prepare, and don't worry too much about sticking to a rigid schedule.
Have Fun!
Camping with kids can be a bit of a challenge at times, but it's also an amazing opportunity to connect with your family and create lifelong memories. Embrace the experience, stay positive, and enjoy the great outdoors together.
So what are you waiting for? Grab your tent, pack your bags, and get ready to make some amazing memories with your family!